Endoscope service
For many years we have been providing warranty and post-warranty service for medical equipment using optical fibers.
Our repairs are carried out by qualified employees using specialized equipment and devices.
We have extensive experience, knowledge and technical facilities that allow us to make professional repairs.
We provide service and technical inspections of the following equipment:
rigid endoscopic optics (arthroscopes, laryngoscopes, otoscopes, sinoscopes, etc.),
flexible endoscopes (fibroscopes, gastroscopes, colonoscopes, nasopharyngoscopes, etc.),
medical lighting optical fibers,
optical fibers for lasers,
fiber optic elements of surgical hooks, rectoscopes, amnioscopes, anoscopes, vaginoscopes.
HIGH QUALITY OF SERVICES – WARRANTY – ATTRACTIVE PRICES – FAST SERVICE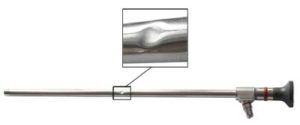 damaged endoscopic optics, the lens was damaged by an impact as a result of dents

Damaged cover of the fiber optic cable.
Thanks to our commitment, we can boast of a large group of regular customers.
What distinguishes us from similar companies is:
free repair cost estimate,
use of the highest quality materials,
short lead times,
warranty for the activities performed and the elements used.
If you have any questions, want to know if we can repair your equipment?
We invite you to contact our company by phone or e-mail.
Telephone:
85 743 74 17
85 743 78 90
e-mail:
Gniewkowski@optec.pl
pawel@optec.pl